Refer-a-Friend bonus
Our service is cool! Tell your friends about it and receive a bonus for it!
This program is very beneficial for both you and your friends! when registering a referral, you get 15% of this person's payments and another 5% from payments of your friend's referrals. Also your friend receives a cashback of 5% from the amount in the form of tokens on the first deposit

How to create a referral link?
You need to go to your Personal Account and find the "REFER-A-FRIEND" tab

Create a referral link by entering any code in the field: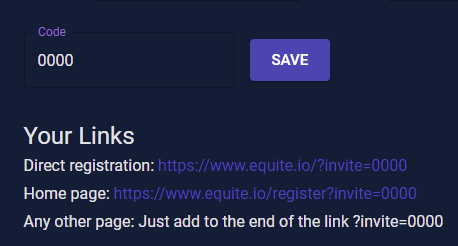 Your bonus statistics will be displayed in the form of a report at the bottom of the page of the "Refer-a-friend" section:

You can spend the received money on paying service commissions, paying for subscriptions. If you use the Trust Account Management services or you have invested in a PAMM account, you can use bonuses to pay commission to the Equite platform.